Submitter
File Information
Submitted: Aug 19 2012 07:15 PM
Last Updated: Oct 13 2022 11:23 PM
File Size: Unknown
Views: 46866
Downloads: 59393
Previous Versions





13 Votes

5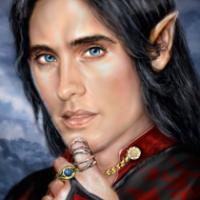 Meet Adrian Sianodel, a 33 year old half-elven mage who, after several recent catastrophes, managed to land a brief but involuntary stint as Irenicus' pet wandmaker. Kill the duergar who guard him, and he'll be quite happy to lend his magic to your cause. To repay the debt, to exact vengeance... and perhaps because he simply has nowhere else to go anymore.
Adrian has lived an interesting life, for lack of a better term, though he's hoping to finally put his past behind him. Aside from his magic, he has a background in espionage and a decadent -- some might say romantic -- streak that has gotten him into trouble in the past. He once pursued (and ultimately wrecked) a political career with one of the most notorious organizations in the Realms, and may very much enjoy the opportunities for intrigue the Shadow Thieves have to offer... if you can drag him away from fighting with the Harper and the Red Wizard long enough to notice, that is.
Adrian may be somewhat difficult to get to know. He is not the most tolerant of people, and while he is intrigued by your powers and heritage (and has far more experience with the machinations of dark gods than he would like), neither his respect nor his trust is particularly easy to earn. That said, he will appreciate a leader willing to take him to task.
Content:
A colorful new sorcerer NPC

SOA and TOB content

Banters with the original Bioware NPCs

BG2EE content

Interjections and other commentary

New encounters

A romance for an eligible female protagonist

A friendship path for a protagonist not romancing him

Player initiated dialogue and flirts

Original portrait by MiLeah
Read the Readme
Visit the Forum
GitHub alternate download center
- New component added: "Adrian Tolerates High Reputation".
- German version added for SoA contents, by Belryll.
- No dialogue should break if Adrian is not able to talk.
- Fixed install error that would prevent romance music from playing.
- Anomen's romance will be set to broken in two specific instances where it was missing so it doesn't break others.
- More support for AL|EN's "Project Infinity" (globally unique LABELs; dynamic install order).
761

Total Files

138

Total Categories

161

Total Authors

34832224

Total Downloads
Edwin Romance Latest File

Kaeloree

Latest Submitter
10 user(s) are online (in the past 30 minutes)
0 members, 9 guests, 0 anonymous users
Bing (1)
Adrian