Submitter
Submitted: Jan 04 2014 06:50 AM
Last Updated: Aug 02 2019 07:29 AM
File Size: 1.95MB
Views: 15265
Downloads: 10855
Previous Versions
Download Recolored toolbar buttons for BG:EE & BG2:EE v4.2





2 Votes
bgee
bg2ee
gui

2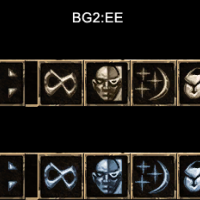 This mini-mod provides recolored buttons for the toolbar displayed at the bottom of the screen to make the enabled/disabled states of the buttons more distinguishable. It contains components for both Baldur's Gate: Enhanced Edition and Baldur's Gate II: Enhanced Edition.
Note: Installing the BG:EE components in Baldur's Gate: Siege of Dragonspear is not advisable as the color schemes have been optimized for the original GUI of Baldur's Gate: Enhanced Edition.

 
Component for BG:EE
You can choose between two color schemes:
a more color-saturated version of the original
a golden scheme that matches the colors of the icons of the left toolbar
 
Component for BG2:EE
a bluish/violet color scheme
 
 
Have fun!

Added German translation and readme
Added download and discussion links to readme
Screenshots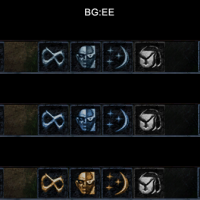 761

Total Files

138

Total Categories

161

Total Authors

34832224

Total Downloads
Edwin Romance Latest File

Kaeloree

Latest Submitter
9 user(s) are online (in the past 30 minutes)
0 members, 7 guests, 0 anonymous users
Google (1), Bing (1)
Recolored toolbar buttons for BG:EE & BG2:EE