Submitter
Submitted: Aug 25 2018 03:41 AM
Last Updated: Aug 20 2022 08:32 AM
File Size: 35.59MB
Views: 5124
Downloads: 2807
Previous Versions
Download Test Your Mettle! 1.4





2 Votes
bg2ee
eet
dungeon
modrons

1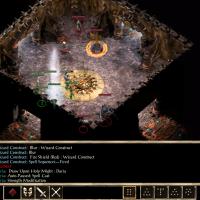 A mod for BG2:EE (2.0 or higher) and EET (Enhanced Edition Trilogy) that provides you with a unique dungeon crawling experience.

The adventure starts in the Planar Sphere in Athkatla's Slum District, where you may encounter new victims of Lavok's planar travels. The result of the encounter will enable you to access a dungeon that has been tailor-made for the intrepid adventurer. You have the opportunity to meet exotic races, uncover a devious plot, or simply enjoy battle with an endless stream of monsters.

In addition, the mod restores the spell "Spacewarp", which is based on cut content from BG2. It can be acquired as a mage or priest spell in the course of the adventure.
 
Alternate download location: https://github.com/A...releases/latest
Added labels for Project Infinity.
Added areas to the game's debug console.
Added compatibility with the "Imoen 4 Ever" mod.
Added option for sorcerers to learn the Spacewarp spell.
Changed availability of the Spacewarp spell in stores.
Component "Make 'Spacewarp' available to stores" can be installed independently from the main component.
Modron director gives more specific directions where to find the boss of the maze.
Fixed a problematic 'call for help' function in modron combat scripts which also affected certain summoned creatures.
Fixed a compatibility issue with a visual effect caused by EE patch 2.6.
Fixed a missing variable when choosing the "bad ending" of the quest.
Fixed various minor combat script issues.
Screenshots
761

Total Files

138

Total Categories

161

Total Authors

34832224

Total Downloads
Edwin Romance Latest File

Kaeloree

Latest Submitter
9 user(s) are online (in the past 30 minutes)
0 members, 7 guests, 0 anonymous users
Google (1), Bing (1)
Test Your Mettle!