Last updated 2007-6-23
Gameplay
~~~~~|#|~~~~~~~~~~~~~~~~~~~~~~~~~~~~~
Q: What are Iylos' basic stats?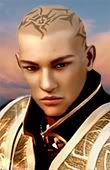 Name
:
Iylos Mirdan
Race
:
Human
Class
:
Monk
Alignment
:
Lawful Good
Stats
:
Strength: 16
Dexterity: 17
Constitution: 14
Intelligence: 15
Wisdom: 12
Charisma 14
Total stats
: 88
Q: Does Iylos have a quest?
Not as such.
Q: Where do I find Iylos?
You will find him in the Inn in Saradush, where he will approach you.
Q: What level is he when he starts?
Level 20.
Q: Can you give an outline of Iylos' personality?
Iylos is a serious young man at first glance, but a second look reveals a sense of humour and a bitterness at the situation he is in. He very clearly does *not* like the PC, for various reasons, and so treats the protagonist with slight contempt and coldness. Despite his extensive monastic training, he has trouble keeping his emotions and thoughts in order, and is somewhat prone to moodswings. He prefers to leap into battle than discuss the risks involved, much as he may say that one should always think before diving into a situation.
Q: Er... can you give a more detailed analysis of his personality and history please?
Take a look at
this thread
.
Q: Will there be a romance of any kind?
No.
Q: How much will he banter with the PC?
Iylos has 5-11 or so dialogues with the PC initiated by himself, depending on how much content you choose to install. He also has quite a few player-initiated dialogues.
Q: How much will he banter with the Bioware NPCs?
2-3 times throughout the course of ToB, depending on the character.
Q: Does he have any major conflicts with NPCs?
Not really, though he will get into arguments with several characters.
Q: Does Iylos have cross-mod content?
Iylos currently has cross-mod content with Nathaniel, Auren, Kivan & Deheriana, Hubelpot, Solaufein and Kelsey. He will definately have cross-mod content with Khadion, Arkalian and the Luxley Family when they are released.
Q: Does Iylos come with any special equipment or new items?
Yes - he is completely outfitted with his own items, almost all of which are completely new.
Q: Will Iylos join the PC regardless of alignment and reputation?
Iylos will only join good or neutral PCs with a reputation of 12 or higher.
Q: Interjections?
Iylos has a fair amount of interjections scattered throughout ToB, including Watcher's Keep.
Technical
~~~~~|#|~~~~~~~~~~~~~~~~~~~~~~~~~~~~~
Q: Is this an SoA/ToB, SoA-only or ToB-only mod?
Iylos is a ToB-only mod. There are no current plans to extend him to SoA.
Q: Is Iylos a WeiDU mod?
Of course. Is this even a necessary question in a FAQ anymore?
Q: Will Iylos be voiced?
Iylos is voiced by Bob 'TheWizard' Dupois.
Q: Will Iylos be compatible with <insertmodhere>?
Iylos should be compatible with all mods, and is BGT-compatible.
Q: I've found a bug, what do I do?
Please post it on the forum along with your
Weidu.log
, and I'll do my best to help you for the time being and make sure the bug is fixed in future versions.
Q: I've found a grammar/spelling mistake, what do I do?
Post on the forum and I'll fix it as soon as I can.
Misceallaneous
~~~~~~~~|#|~~~~~~~~~~~~~~~~~~~~~~~~~~
Q: I have a suggestion for a future update, banter or dialogue - what do I do?
PM it to me (K'aeloree) and I will see if it is appropriate - if so, I'll do my best to make it a reality and add it to the next update.
Q: I hate Iylos' portrait - is there a way I can change it?
There surely is - just replace LK#IYLB, LK#IYLL and LK#IYLS respectively. If you have a portrait you really like, post it on the forum!
Q: I'm interested in doing Crossmod between my mod and Iylos. What are your rules with Crossmod?
Basically, as long as I've given the crossmod content the go ahead, I'm fine with it. But you
must
ask me first. PM or email is fine.