UPDATE 2/28/2012 - This mod will probably not be updated due to personal time constraints, and a loss of the support files I used to create this mod. All is not lost though! See
this post
with very rough instructions on how to create your own fonts for Infinity Engine games! Also, check out
GemRB
which has a plugin that allows you to use any truetype font for the game.
This mod adds a larger game font, tooltip font, and floaty font to BGII, TOB, or probably any other infinity engine game. This is technically version 2.0 of this mod, but the first one was released in a thread I started asking for help. Anyone who used my previous font should note that these are much nicer! If the only thing keeping you from using a high resolution with BGII (or any IE game) is the microscopic text, or if you have bad eyesight, then this mod is for you! Please enjoy, and post any problems/questions here. Check out the readme for more info.
Here is a screen of the new fonts in action at 800x600 res
UPDATE: Version 2.1 released. Raised the vertical alignment of all chars in floattxt.bam by 3 pixels in an attempt to get the text
to not cover avatars. Unfortunatly, beyond 3px the top line of float text starts to get chopped, otherwise I would have raised it more.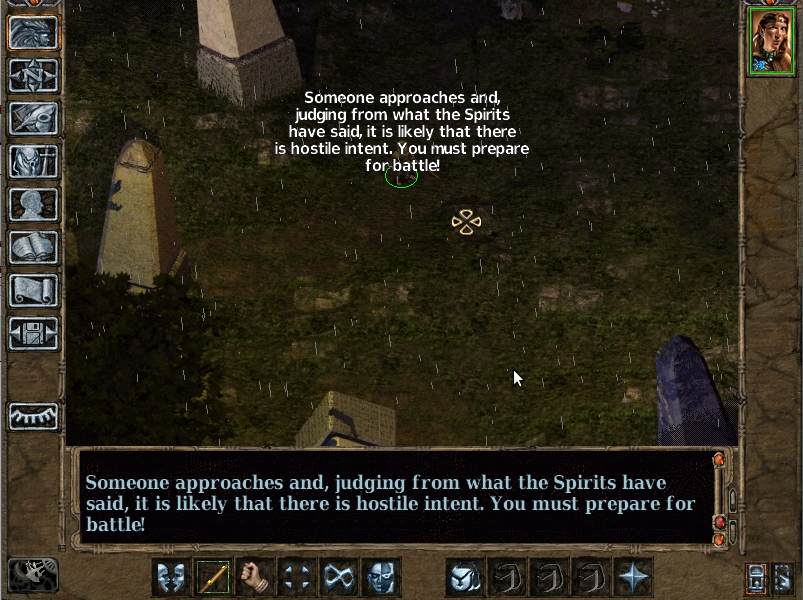 FontMod_v2.1.zip
31.03K
47831 downloads
Edited by Corvias, 28 February 2012 - 07:17 AM.