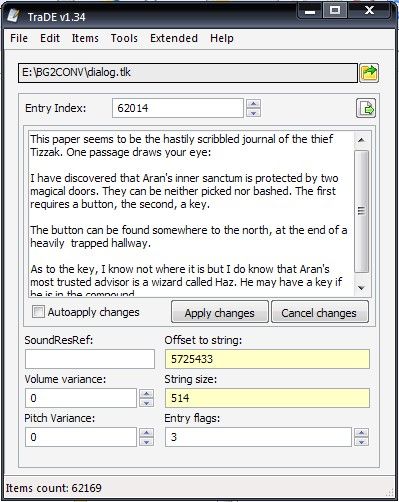 File Name
: TraDE v1.34
File Submitter
:
Aldark
File Submitted
: 19 Jun 2010
File Updated
:
19 Jun 2010
File Category
:
IE Modding Tools
TraDE - Translations&Dialogs Editor
- TLK and TRA editor
Was created on January 6, 2010 by Aldanis Darkwood (Aldark)
Last update: June 10, 2010
Editor's Translations: English, Russian
Supports: NWN TLK_V3, BG (Infinity Engine) TLK_V1, WeiDU TRA
It can do many things with .tlk and .tra files, like comparing, translating, (un)grouping strings in .tra and so on.
If you want to add your own translation into TraDE, contact with me.
Click here to download this file
Edited by Aldark, 23 May 2012 - 08:53 AM.