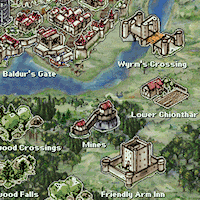 File Name
: Sword Coast Map Labels
File Submitter
:
Miloch
File Submitted
: 14 Dec 2010
File Updated
:
17 Dec 2010
File Category
:
Miscellaneous Released Mods
This mini-mod assigns "canon" labels to all areas in the Baldur's Gate I (Sword Coast) portion of the game. If an area lacks references in PnP canon material, the mod will assign the Dudleyville label. Where feasible, the labels attempt to avoid spoilers. See the
readme
for more information.
Click here to download this file
Edited by Miloch, 16 December 2010 - 06:41 PM.