Meet Afaaq! The djinni who will be your faithful companion in the course of your adventures throughout SoA and ToB. Now available for Icewind Dale: Enhanced Edition as well!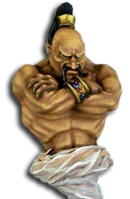 Content
The djinni Afaaq who acts as your "seventh party member"
Extensive dialog content between Afaaq and the protagonist
Banters with the original Bioware/Beamdog NPCs (still in the works)
Interjections and commentaries
An extensive player-initiated dialog with Afaaq
Up to five new interesting quests
Six new areas
A couple of unique artifacts
Several easter eggs
This mod is available for the original Baldur's Gate II, Baldur's Gate II: Enhanced Edition and Icewind Dale: Enhanced Edition. 
Overview
Afaaq is a djinni - a genie of the Elemental Plane of Air. He is very old even in genie terms. The numerous events he witnessed in his long life have left their marks on his personality. He appears somewhat reserved and radiates a melancholic, sometimes even gloomy aura. Afaaq is more serious than others of his kind and tends to talk in a rather long-winded and convoluted way. He respects wisdom and open-mindedness, but will also tolerate foolhardy behavior to a certain degree. Everything else he can tell you by himself.
When you first meet him, he is equipped with his favorite enchanted scimitar, has a small variety of spells and a couple of unusual innate abilities. The djinni gains experience much like a party member would do and levels up automatically. Depending on the choices you make during the course of the game, he may become even more useful later.
Initial Statistics
Class: Fighter/Mage at level 10/11
Alignment: Chaotic Good
Strength: 15
Dexterity: 16
Constitution: 13
Intelligence: 15
Wisdom: 16
Charisma: 11
If you want to know more, simply talk to him when he is around or in his magical lamp. He will be happy to answer your questions in detail. 
FAQ
View Readme
Download Djinni Companion (latest version)
Alternate download (GitHub)
Visit the project (GitHub)
Follow mod progress
---
Work on the Djinni Companion already began back in 2012. He eventually grew from a simple companion into a full-fletched NPC whose mere presence in your party draws you into a number of interesting quests throughout both Shadow of Amn and Throne of Bhaal. The Djinni Companion mod makes use of additional content from a number of mods, if it can find them during installation. You can find out more about it in the linked Readme.
Feel free to post your thoughts, suggestions, questions or bugs either here or in
my topic on Baldur's Gate Forums
.
Have fun!

Edited by Argent77, 14 July 2018 - 09:28 AM.